We've had a great start to the New Year at LHS and just wanted to share a few things.
New Job Club
We have started a new Job Club led by ETHOS advisor, Shirley Steele (Pictured below with the scarf).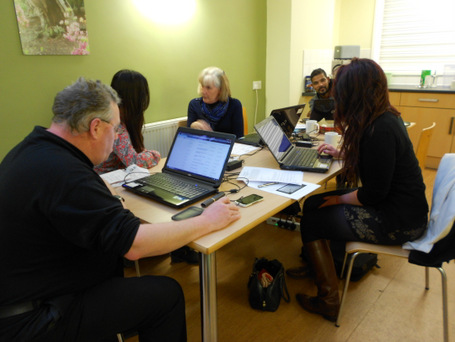 3 clients came away from the first session with freshly updated CV's and one was even inspired to look into doing some courses. Job Clubs are a fantastic way to encourage people in what can be an extremely difficult and disheartening time for many by providing solidarity and support with seeking work and a way forward.  This Job Club alternates weekly between LHS and B@titude, a community shop in North Leatherhead. For more information about ETHOS please click here. 
New Employment Skills Courses
We have recently received a grant from the Skills Funding Agency and European Social Fund to run a series of 5 week courses focusing on English, Maths and IT.  We are delivering these courses in partnership with the Surrey Lifelong Learning Partnership (SLLP) and making them available to the wider community and the only criteria is that the learners be unemployed and over the age of 19.
In addition to the courses, there will also be the opportunity for one to one sessions with Shirley, the Employment Advisor from ETHOS (which is also a project run by SLLP), who will help the learners update and fine-tune their CVs as well as advise on job search techniques, including the use of Universal JobMatch, the Job Centre's online platform.  The programme will finish with a workshop that will equip people with the skills needed to face those daunting job interviews with optimism and confidence.
The courses will start the week beginning the 23rd February. For more information, please contact Kat Moore on 07542 780919 or via email at katherine@leatherheadstart.org
Climbing Trip
Alongside promoting opportunities that build skills for life and work, we really believe that life should have a bit of fun in it too and a couple weeks ago, 3 clients had the opportunity to go on a climbing trip at Craggy Island in Guildford.  Organised and funded by our brilliant volunteer, Paul, these trips are a chance for people to try new things, build relationships with one another and are often the highlight of the month for them.  See below for a few photos of the trip.  And once again, a huge thank you to Paul for his generosity.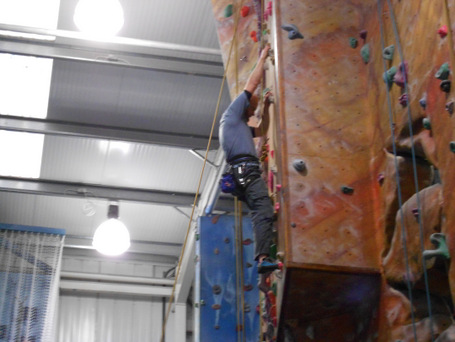 prev
next