We have just finished our latest newsletter, so please do have a read HERE or pop in and grab a hardcopy version (or several if you are part of a group or organisation).  Also, see below for the full-length articles about three LHS clients – Kaylea, Jon and Matt.
Kaylea heads for a secure future
Kaylea, 25, is one determined young woman. From six onwards, she spent much of her time in foster homes. She grew up in West Sussex, the second-eldest of seven. Her father was abusive: "Mum wasn't coping with it," she says. Her mum remarried and moved to Dorking just as Kaylea went into secondary school. Kaylea liked the school—"I made a lot of friends," she says—but she was a handful. Her behaviour was so disruptive she had to go to a special school in Reigate.
When she left at 17, she moved into a hostel and took various jobs in shops and sandwich bars. The hostel, she says, "was horrible." It wasn't clean, the manager, a keen Christian, insisted she go to church on Sundays, and the other residents—drug or alcohol users, which Kaylea isn't—stole from her.
After 11 months Mole Valley council helped her find a flat in Leatherhead. "I was too young. I didn't know how to do anything," she says. The flat was too big and she couldn't keep it clean or manage the bills or the shopping. After a year debts forced her back to the hostel. Nine months later she found a flat in Fetcham but, after three years, she was evicted for debt.
She spent two years sofa-surfing, and stayed out or slept rough a few nights. Then, last Christmas, a friend arranged for the Mole Valley housing team to ring her, and that led her to LeatherHead Start. Kaylea has been here since January.
She's pleased with help she's had from LeatherHead Start. "This", says Kaylea, "is like a five star hotel. The staff are friendly. If you have a problem you can always talk to them, things you are struggling with." Her key worker, Jo [newsletter issue 3, spring/summer 2013], she says, "is absolutely brilliant."
Kaylea has always been self-reliant, and she's always had a job—"I'm not someone who can sit around moping," she says—but a new future has opened up. Not long ago she picked up a leaflet in a Job Centre offering work stewarding events. It's work she really likes, and now she's looking forward to a career in the security industry. She found a sponsor for a four week training course and, with a certificate under the Security Industry Authority training scheme, she's qualified for better-paid jobs.
Strong character seeks a fresh start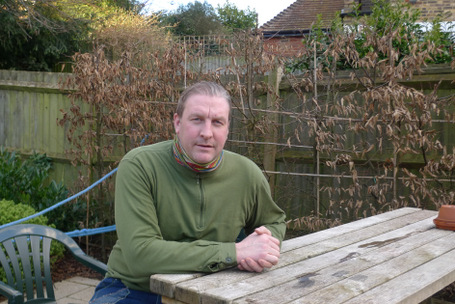 Jon is great company. And for most of his life the 38-year-old made a living where that's a job requirement, in the pub trade.
He grew up in Essex with his mother and sister. The family spent a lot of their time in pubs, and, though Jon left school with enough GCSEs to go to college, he was keen to earn some money in pubs and catering: "I loved it. I enjoyed the people side of it."
He was good at it, too. Stints in various London pubs led to work in the Conran restaurant chain: "I had a talent for it." The work took him to Australia, then, after a wedding in the US where he met his wife, he moved there to work.
The relationship lasted seven years. After that he came back to run a pub in Surrey. But the drinking and drug-taking that had always been part of his life now cost him that job and, with it, his home.
Jon moved back in with his mother but she eventually threw him out. "I was living in a tent," he says. Eventually he went to Pitstop, where Graham Peddie led him to LeatherHead Start. Though he did some cooking for the other residents, he was still drinking and using, and it was a miserable existence: "I didn't go out. I didn't wash. I didn't socialise," he says. The LHS staff didn't lecture him or try to mend his ways: "They just asked me to keep a drink diary."
After three months, in May 2013, LeatherHead Start found him a place in Beare Green. Seven months ago, he found the resources to abandon his addictions, and he's determined to stay clean. Now he cooks, plays badminton, and goes for long rides on his motor bike. His ties with his mother, who lives close by, and his sister are stronger than ever.
LeatherHead Start helped a lot: "It's a hell of a lot of support. It's talking to you, giving you a sense that it's going to be all right. It's 'we will help you no matter what'. It's genuine".
His toughest assignment is finding work. His CV is a model for anyone intent on a career in the drinks trade, but he has to find something else, even though Job Centres insist he goes back to the trade if he's serious about finding work.
But he's a strong character, and positive about the future: "Yes, the job market is tricky, but I know there's help here if you need it."
And anyway he likes coming back: "It's good to keep in contact with the people here, drop in for a cup of coffee and tell them 'this is going on for me at the moment, what do you think?' It's good to know that's there."
Striver on the way up
Matt, 19, is a ferocious believer in honesty and self-reliance. Until he found his present work, "I looked for jobs every single day. If you do try hard enough you will get somewhere. There are jobs out there."
Matt left school at 16. He says little about what led him to LeatherHead Start last October other than to hint that home life was chaotic. At school he did day release in construction: painting and decorating, carpentry and bricklaying. He liked the carpentry so did two years at college on that. Then he worked with a friend who had gone into property renovation: "It was a waste of time," he says. "I didn't enjoy it."
But he's always paid his way, he insists, including here at LeatherHead Start. "I took four months to look for a job, every day and night, sending emails…" His research led him to work as a sampling engineer for a firm of water treatment consultants. Their business is to make sure water supplies in workplaces meet legal standards. The work takes him all over the country and to offices all over London.
Matt isn't committed to a life in the water industry. Like everyone else, he enjoys parts of the work and not others. But, "they treat you really well. It's a great company to work for and the money's good." The money will be even better when he gets the Health and Safety Executive's 'CSCS' card he's now studying for, doing course work at night.
Ask most LeatherHead Start residents about their ambitions and they talk of finding a house or getting off benefits. Not Matt: "I want to own my own company." Money is important to him. But so is stability and family life. He'd like a wife and kids: "I just want to do well and take the right path," he says. For now he's impatient to find his own place, preferably in the next month, and he's saving for a deposit on a place to rent.
Matt does have a lighter side. He's never overdone drink or drugs and doesn't have a lot of time for people who have, "but I have a great social life." He's out all weekend with friends from the Leatherhead area.
All articles written and photos taken by  LHS volunteer John Dwyer – thank you, John!